Posts for: November, 2014
By Brittney Craig, DMD
November 19, 2014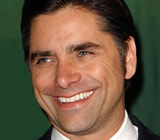 We're always tickled to see dentists represented in popular culture, especially when portrayed by an actor as handsome as John Stamos. On the hit television show Glee, Stamos played a dentist who made sure the glee club members cleaned up their act when it came to oral hygiene — though perhaps he used a bit too much anesthesia to achieve this admirable goal. While under his care — and lots of sedation — several Glee characters had music-infused hallucinations in which they danced and sang with pop star Britney Spears.
Far-fetched? No doubt. Still, it's worth mentioning that sedation has its place in dentistry. In fact, if you are someone who tends to get anxious or even fearful about dental treatment, you should know that sedation can help you relax both mind and body so you can feel peaceful rather than anxious in the dentist's chair. And that's the whole point: Fear of pain should not stand in the way of your getting the care that will keep you healthy and allow you to keep your teeth for as long as possible.
You may not know this, but when you are afraid, your threshold for pain is actually lower. You become hypersensitive to every sensation and sound, and you tense your muscles. Fear and anxiety trigger the release of certain chemicals that put you in "fight or flight" mode. In this heightened state of alert you experience more pain during and even after treatment.
The good news is that this response can virtually be eliminated with various oral sedatives and/or with nitrous oxide, which is inhaled. Both treatments will allow you to let your guard down and relax. Your apprehension and hypersensitivity to pain will disappear, even though you are still conscious. And when you are relaxed, we are better able to focus on the task at hand, knowing that you are comfortable.
The sedatives used in dentistry have been subjected to rigorous testing and have a strong safety record backed by decades of use. Several even have "amnesic" properties, meaning that you will remember little to nothing of your treatment — unless, of course, you end up singing and dancing with Britney Spears!
If you would like more information about sedation in dentistry, please contact us or schedule an appointment for a consultation. You can also learn more by reading the Dear Doctor magazine article "Oral Sedation Dentistry." Dear Doctor also has more on "Overcoming Dental Fear & Anxiety."
By Brittney Craig, DMD
November 04, 2014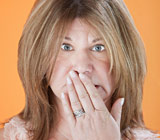 Q: I often seem to have noticeably bad breath — not just in the morning. How unusual is this problem?
A: Persistent bad breath, or halitosis, is a very common complaint that is thought to affect millions of people, including perhaps 25 to 50 percent of middle aged and older adults. It's the driving force behind the market for breath mints and mouth rinses, with an estimated value of $3 billion annually. It's also the third most frequent reason people give for seeing the dentist (after tooth decay and gum disease). So if you have bad breath, you're hardly alone.
Q: Can bad breath come from somewhere other than the mouth?
A: Most of the time, bad breath does originate in the mouth; its characteristic smell is often caused by volatile sulfur compounds (VSCs), which have a foul odor. However, it can also come from the nose, possibly as a result of a sinus infection or a foreign body. In some cases, pus from the tonsils can cause halitosis. There are also a few diseases which sometimes give your breath an unpleasant odor.
Q: What exactly causes the mouth to smell bad?
A: In a word: bacteria. Millions of these microorganisms (some of which are harmful, and some helpful) coat the lining of the mouth and the tongue. They thrive on tiny food particles, remnants of dead skin cells, and other material. When they aren't kept under control with good oral hygiene — or when they begin multiplying in inaccessible areas, like the back of the tongue or under the gums — they may start releasing the smells of decaying matter.
Other issues can also contribute to a malodorous mouth. These include personal habits (such as tobacco and alcohol use), consumption of strong-smelling foods (onions and cheese, for example), and medical conditions, like persistent dry mouth (xerostomia).
Q: What can I do about my bad breath?
A: Those breath mints are really just a cover-up. Your best bet is to come in to the dental office for an examination. We have several ways of finding out exactly what's causing your bad breath, and then treating it. Depending on what's best for your individual situation, we may offer oral hygiene instruction, a professional cleaning, or treatment for gum disease or tooth decay. Bad breath can be an embarrassing problem — but we can help you breathe easier.