Posts for: March, 2018
By Brittney Craig, DMD
March 28, 2018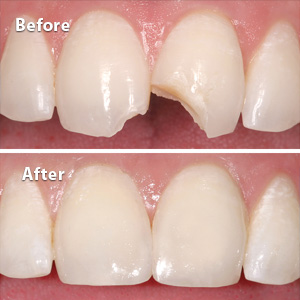 You have a winning smile except for one small flaw — one of your front teeth is chipped. In functional terms the defect is insignificant: your tooth is healthy and can still do its job. But with regard to your smile that chip is like a smudge on a masterpiece painting: it stands out — and not in a good way.
The good news is you have options to repair the chip and vastly improve your appearance. One option is to bond a custom porcelain veneer to the outside of the tooth to cover the chip. But that would also mean removing a slight bit of tooth enamel so the veneer won't appear too bulky. Although not as much as with a crown, the alteration still permanently affects the tooth — it will always require a restoration of some kind.
There's another choice that doesn't involve removing any of your enamel: composite resin. This treatment is a mixture of materials with a glass-like binder in liquid form that we apply to a tooth in successive coats. As we build up the layers we can match the tooth's shape, texture and various shades of its natural color. We're able to fill in the defect and make the tooth appear as natural as possible.
Unlike porcelain restorations, composite resins don't require a dental lab or a period of weeks to prepare. We can transform your simile in our office in as little as one visit.
Composite resin isn't the answer for every tooth defect. Teeth that have become worn, fractured or have undergone a root canal treatment are best treated with a porcelain restoration such as a veneer or crown. But where the defect is relatively minor, composite resin may be the answer.
To learn if you can benefit from a composite resin restoration, you'll need to undergo a dental exam. If we determine you're a candidate, we can use this state-of-the-art dental material to make your teeth look flawless.
If you would like more information on composite resins, please contact us or schedule an appointment for a consultation. You can also learn more about this topic by reading the Dear Doctor magazine article "Artistic Repair of Front Teeth with Composite Resin."
By Brittney Craig, DMD
March 13, 2018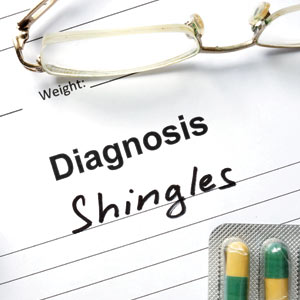 It may begin as an itching or burning feeling on your skin, followed by numbness or sensitivity to touch. But then you develop a painful red rash that forms crusty lesions. Fever and fatigue may follow.
These are the common symptoms for a form of chicken pox called shingles, a contagious disease from the human herpes group of viruses. While anyone can contract the shingles virus, it most often lies dormant in a person's nervous system for decades after an earlier bout of chicken pox. It then breaks out (sometimes repeatedly), usually in patients over fifty.
A shingles outbreak can be miserable. It could also affect your dental care, especially if you have a rash on your face and neck. Here are 3 things you should do if you have shingles in regard to your dental care and overall health.
Tell your dentist you have shingles. A shingles outbreak is highly contagious in its early stages and can spread from direct contact with blisters or through airborne secretions from the infected person's respiratory system. Even a simple teeth cleaning (especially with an ultrasonic device) at this stage could spread the virus to staff and other patients. So inform your dentist if your appointment coincides with an outbreak—it may be necessary to re-schedule your visit.
Start antiviral treatment as soon as possible. If you're diagnosed with shingles, more than likely your doctor or dentist will recommend immediate antiviral treatment (typically acyclovir or famciclovir) within 3 days of symptom onset. This can help speed up healing, alleviate pain and possibly prevent more serious complications.
Get the shingles vaccine. Of course, you don't have to wait for shingles to occur—there is an effective vaccine that could help prevent an outbreak. If you've had chicken pox (over 90% of American adults have) or you're over sixty with or without previous chicken pox, the U.S. Centers for Disease Control recommends you get vaccinated.
If you would like more information on shingles and how it may affect your dental health, please contact us or schedule an appointment for a consultation.