Posts for: June, 2020
By Brittney Craig, DMD
June 20, 2020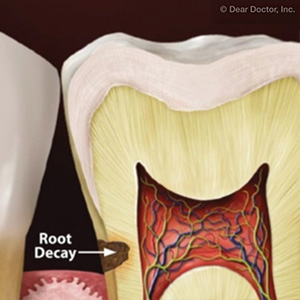 Tooth decay is one of two dental diseases most responsible for tooth loss (gum disease being the other). In the absence of treatment, what starts as a hole or cavity in a tooth's outer layers can steadily advance toward its interior.
Most people associate cavities with the crown, the part of a tooth you can see. But cavities can also occur in a tooth's roots, especially with older adults. Root cavities pose two distinct difficulties: They can lead to more rapid decay spread than crown cavities within a tooth; and they're harder to detect.
Tooth roots are ordinarily covered by the gums, which protects them from bacterial plaque, the main cause for decay. But roots can become exposed due to receding gums, a common problem with seniors who are more susceptible to gum disease.
Unlike the enamel-covered crowns, tooth roots depend on gum coverage for protection against bacteria and the acid they produce. Without this coverage, the only thing standing between tooth decay and the roots is a thin material called cementum.
If decay does enter a tooth's interior, saving it often requires a root canal treatment to remove decayed tissue in the inner pulp and root canals, and then replacing it with a filling. But if we're able to discover a root cavity in its early stages, we may be able to fill it like a crown cavity.
The best strategy, though, is to prevent root cavities from forming. This starts with a dedicated daily regimen of brushing and flossing to remove dental plaque. If you're at high risk for root cavities, we may also recommend antibacterial mouthrinses and other aids.
Regular dental visits are also a must: a minimum of twice-a-year dental cleanings to remove stubborn plaque and calculus (hardened plaque) deposits. For added protection against root cavities, we can also apply fluoride varnish to strengthen teeth. And regular visits are the best way to detect any cavity in its early stages when treatment is less invasive.
A heightened risk of dental problems like root cavities are a part of the aging process. But partnering together, we can lower that risk and increase the longevity of your teeth.
If you would like more information on root cavities, please contact us or schedule an appointment for a consultation. You can also learn more about this topic by reading the Dear Doctor magazine article "Root Cavities."
By Brittney Craig, DMD
June 10, 2020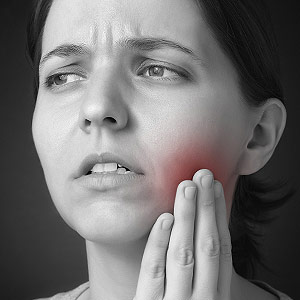 Determining which of your teeth is causing your toothache isn't always easy — or even if it's a tooth at all. The pain could be coming from a tooth, the gums, or both. Only a thorough dental examination can pinpoint the exact cause and best course of treatment.
If a decayed tooth is the problem, the pain may be coming from nerves and other tissue deep within the tooth's pulp. The symptoms could be dull or sharp, constant or intermittent, specific to one area or spread out. It's even possible for the pain to suddenly subside after a few days. This doesn't mean the infection has subsided, but rather that the infected nerves have died and no longer transmit pain. Pain can also radiate from the actual source and be felt somewhere else — the pain in your sinuses, for example, could actually originate from an infected back tooth.
If the source is periodontal (gum) disease, the infection has begun in the gum tissues. As they become more inflamed they lose their connectivity with the teeth, bone loss occurs and the gums may "recess" or draw back. This exposes the tooth root, which without the protective cover of the gum tissues becomes highly sensitive to changes in temperature or pressure. As a result you may encounter sharp pain when you eat or drink something hot or cold, or bite down.
Treating these issues will depend on the actual infection source. An infected tooth often requires a root canal treatment to clean out the pulp and root canals of dead or infected tissue, fill them with a special filling, and seal and crown the tooth to prevent future infection. If the source is gum disease, we must manually remove the bacterial plaque causing the disease from all tooth and gum surfaces to stop the infection and allow the gums to heal. In advanced cases, surgical procedures may be necessary to repair damage and encourage new gum and bone growth.
Where dental disease has spread from tooth to gums or vice-versa, you may need treatments for both areas to address your overall condition. Whatever the treatment course, we can put an end to your tooth pain and restore health to your teeth and gums.
If you would like more information on the sources of mouth pain, please contact us today to schedule an appointment for a consultation. You can also learn more about this topic by reading the Dear Doctor magazine article "Confusing Tooth Pain."