Posts for tag: crown
By Brittney Craig, DMD
August 25, 2019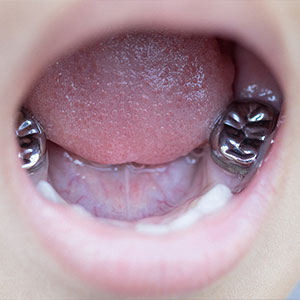 One of the key elements in a child's development is their first set of teeth. Although primary ("baby") teeth last only a few years, they're critically important for enabling a child to eat solid foods, speak and smile.
But they also provide one more important benefit—they hold the space in the jaw reserved for the permanent teeth developing just under the gums until they erupt. But if a child loses a primary tooth prematurely because of disease or injury, other teeth may drift into the vacant space and crowd it out for the intended permanent tooth. It may then come in misaligned or remain stuck within the gums (impaction).
To avoid this, we try to treat and preserve a diseased primary tooth if at all practical. For a primary molar, one of the large teeth in the back of the mouth, this might include capping it with a stainless steel crown.
Why a metal crown? Primary molars normally don't fall out until around ages 10-12, so it may be years for a younger child before their permanent molars erupt. All during that time these particular teeth will encounter heavier biting forces than teeth in the front.
A steel crown is often the best solution for a molar given their longer lifespans and encountered biting forces. The crown's metal construction can stand up to these forces while still protecting the tooth from re-infection from decay. And because molars are typically outside of the "smile zone" occupied by more visible front teeth, the crown's metal appearance isn't usually an aesthetic issue.
Crowning a molar usually takes one visit, a dentist typically performing the procedure with local anesthesia and possibly a mild sedative like nitrous oxide gas ("laughing gas"). After removing any decayed structure from the tooth, the dentist will then fit a pre-formed crown over the remaining structure, sized and shaped to match the original tooth as close as possible.
A stainless steel crown is a cost-effective way to added needed years to a primary molar that could otherwise be lost prematurely. Preserving it may help a child avoid bite problems and expensive future treatments.
If you would like more information on dental care for primary teeth, please contact us or schedule an appointment for a consultation. You can also learn more about this topic by reading the Dear Doctor magazine article "Stainless Steel Crowns for Kids: A Safe and Effective Way to Restore Primary Molars."
By Brittney Craig, DMD
July 17, 2016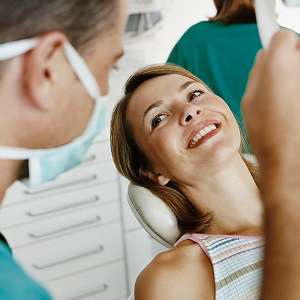 Modern restorations for severely damaged or missing teeth are truly remarkable. Although the type of restoration may differ — dental implant, bridge, or veneer — the end result is a life-like facsimile that matches the shape and color of your natural teeth.
To achieve this result, though, the new crown or veneer requires fabrication in a dental laboratory, a meticulous process that may take a few weeks. In the interim, we often install temporary crowns. These help in a number of ways: because we've prepared the teeth for final restoration by removing some of the tooth structure, the temporary crown protects and stabilizes the teeth, reduces sensitivity and helps maintain gum health. Temporary crowns also enable the patient to present a more natural smile while waiting for the permanent restoration.
Temporary crowns are typically manufactured to fit a wide range of patients, similar to an "off-the-rack" suit from a clothing store. In recent years, though, customized "tailored" temporary crowns designed specifically for an individual patient have grown in popularity among dental professionals as well as patients.
In creating a customized temporary crown, we first perform a smile analysis similar to one used for a permanent restoration. After a careful assessment of your mouth, we would then make recommendations about the elements to include in the temporary crown, including shape and color. We would also factor in your desires and concerns into the final design. Working together with the dental laboratory, we would then have the temporary crowns produced and ready to apply as soon as we complete the preparatory work.
Customized temporary crowns also serve another important purpose as a kind of "dress rehearsal" for the permanent restoration. This gives you an opportunity to "try out" the smile you'll have with the permanent restoration in your daily life. We can then use your experience to make adjustments to the permanent crowns before final production.
While customized temporary crowns involve more effort and expense than the traditional, the benefits are worth the added cost, especially if you're involved with an extensive "smile makeover" procedure. Not only will you look better while your permanent restoration is under construction, your temporary look will give you added confidence that your future smile is right for you.
If you would like more information on temporary and permanent dental restorations, please contact us or schedule an appointment for a consultation. You can also learn more about this topic by reading the Dear Doctor magazine article "Concepts of Temporary Restorations."